ОРГАНІЗАЦІЙНІ ВІЙНИ ЯК ІНСТРУМЕНТ ТИСКУ В МІЖНАРОДНИХ ВІДНОСИНАХ
Ключові слова:
організаційна війна, стратегія непрямих дій, операції базового ефекту, організаційна зброя
Анотація
Метою статті є розкриття деяких аспектів сутності організаційних війн у міжнародних відносинах. Висвітлюється, що головним інструментом організаційної війни є технологія «керованого хаосу», яка передбачає застосування стратегії непрямої дії та операцій базового ефекту. Деталізовано концепт стратегії непрямих дій, що реалізуються у комплексі з методами управління рефлексією або сприйняттям супротивника, тобто його когнітивною сферою, що виступає основним сегментом дії операцій базових ефектів. Підкреслюється, що операція базового ефекту означає встановлення повного контролю над усіма учасниками актуальних або можливих дій й тотальне маніпулювання ними в усіх ситуаціях. Показано, що при застосуванні технології «керо­ваного хаосу» у мыжнародних выдносинах актуалізується використання організаційної зброї, яка є впорядкованою сукупністю методів (моделей, програм, стратегій, процедур, форм) реалізації управлінських рішень. Використовуючи мережевий принцип дії організаційна зброя охоплює усі сфери суспільства від освіти, ЗМІ і науки, до економічних і політичних процесів.
Посилання
Clausewitz, C. On War. Retrieved from https://www.clausewitz.com/readings/OnWar1873/BK8ch03.html#B
Brzezinski, Z. (2009). The Choice: Global Domination or Global Leadership. New York: Basic Books.
Huntington, S.P. (2011). The Clash of Civilizations and the Remaking of World Order. New York: Simon & Schuster.
Illarionov, A. (2014). Chetverta svitova viina [The Fourth World War]. Ekonomist, 6, 75-78 [In Ukrainian].
Cashman, G., & Robinson, L.C. (2021). An introduction to the causes of war : patterns of interstate conflict from World War I to Iraq. Second edition. Lanham, Maryland : Rowman & Littlefield.
Dodds, K. (2021). Border wars : the conflicts that will define our future. London : Ebury Press.
Kolenda, C.D. (2021). Zero-sum victory : what we're getting wrong about war. Lexington, Kentucky : The University Press of Kentucky.
Krotiuk, V.A. (Ed.) (2021). Viiny informatsiinoi epokhy: mizhdystsyplinarnyi dyskurs [Wars of the information age: interdisciplinary discourse]: monohrafiia. Kharkiv: FOP Fedorko M. Yu. [In Ukrainian].
Mahnken, T.G. (Ed.) (2020). Learning the lessons of modern war. Stanford, California : Stanford University Press.
Mandrahelia, V.A. (2003). Prychyny ta kharakter voien (zbroinykh konfliktiv): filosofsko-sotsiolohichnyi analiz [Causes and nature of wars (armed conflicts): philosophical and sociological analysis] / Nats. akad. oborony Ukrainy, In-t vyshch. osvity APN Ukrainy. Kyiv [In Ukrainian].
Matthias, J. (2021). Some words on those wars. Loveland, Ohio : Dos Madres.
Miller, P.D. (2021). Just war and ordered liberty. Cambridge, United Kingdom ; New York, NY : Cambridge University Press.
Singh, A.K. & Kumar, N. (Eds.) (2021). Battle ready for the 21st century. New Delhi : Pentagon Press LLP.
Trebin, M.P., & Chernyshova, T.O. (2017). Evoliutsiia viin kriz pryzmu revoliutsii u viiskovii spravi [The evolution of wars through the prism of revolutions in military affairs]. Suchasna viina: humanitarnyi aspekt. Naukovo-praktychna konferentsiia Kharkivskoho natsionalnoho universytetu Povitrianykh Syl imeni Ivana Kozheduba, 30 chervnia 2017 roku: tezy dopovidei Modern war: humanitarian aspect. Scientific and practical conference of Kharkiv National University of the Air Forces named after Ivan Kozhedub, June 30, 2017: abstracts of reports, Pp. 16-21. Kharkiv; KhNUPS im. I. Kozheduba [In Ukrainian].
Kurginyan, S. (2007). Oda strakha. Nozh pervyy: kak umershchvlyayut instinkt samosokhraneniya [Ode to fear. The first knife: how the instinct of self-preservation is killed]. Zavtra – Tomorrow, 18 (702). Retrieved from https://tms.ystu.ru/oda-strahu.htm [In Russian].
Sun Tzu. (2018). The Art of War. Delhi: Fingerprint Publishing.
Senchenko, M. I. (2020). Svitova latentna orhanizatsiina viina [The world's latent organizational war]. Kyiv: FOP Stebliak O. [In Ukrainian].
Liddell Hart, B.H. (2017). The Strategy Of Indirect Approach. Andesite Press.
Shevchenko, M. M. (2014). Funktsii ta zavdannia systemy zabezpechennia natsionalnoi bezpeky Ukrainy v suchasnykh umovakh. Naukovo-informatsiinyi visnyk Akademii natsionalnoi bezpeky- Scientific and information bulletin of the Academy of National Security, 3-4, 14-24 [In Ukrainian].
Shevchenko, M.M. (2007). Metodolohichni zasady analizu mizhderzhavnoho protyborstva [Methodological principles of the analysis of interstate confrontation]. Nova paradyhma New paradigm/ Hol. red. V. P. Bekh. Kyiv: Vyd-vo NPU im. M. Drahomanova, 68, 125 –133 [In Ukrainian].
Lefebvre, V. (2010). Lectures on the Reflexive Games Theory. Leaf & Oaks Publishers.
Foreign policy and terrorism. Military Wiki. Retrieved from https://military-history.fandom.com/wiki/Perception_management#:~:text=Best%20put%20by%20the%20DOD,and%20relations%20with%20other%20countries.
Toffler, A., & Toffler, H. (1995). War and Anti-War: survival at the dawn of the 21st century. New York: Warner Books Edition.
Kapoor, B.M. (2009). Art of Perception Management in Information Warfare Today. The United Service Institution of India Journal, October-December. Retrieved from https://usiofindia.org/publication/usi-journal/the-art-of-perception-management-in-information-warfare-today-2/?sf_paged=42
Anderson, E., & Engstrom, J. (2009). China's use of perception management and strategic deception. US-China Economic and Security Review Commission. Retrieved from https://www.uscc.gov/sites/default/files/Research/ApprovedFINALSAICStrategicDeceptionPaperRevisedDraft06Nov2009.pdf
Tomas, T. L. (2002). Refleksivnoe upravlenie v Rossii: teoriya i voennyie prilozheniya [Reflexive Management In Russia: Theory And Military Applications]. Retrieved from http://www.intelros.ru/pdf/stratagemi/Tomas.pdf [In Russian].
Effects-based operations. Military Encyclopaedia. Retrieved from https://military-history.fandom.com/wiki/Effects-based_operations
Effects-based approach to operations. Air Force Glossary. 2021. Retrieved from https://www.doctrine.af.mil/Portals/61/documents/AFDP_Air-Force-Glossary/AF-GLOSSARY.pdf
Davis, P. K. (2001), "Effects-Based Operations (EBO). A Grand Challenge for Analytical Community", RAND. Retrieved from https://www.rand.org/content/dam/rand/pubs/monograph_reports/2006/MR1477.pdf
Smith, E. A. (2002). Effects- Based Operations: Applying Network Centric Warfare in Peace, Crisis, and War. Center for Advance Concepts and Technology, DOD Command and Control Research Program. November. Retrieved from http://www.dodccrp.org/files/Smith_EBO.pdf
Lowe, D., Ng, S. (2004). Effects-based operations: language, meaning and the effects-based approach.Command and Control Research and Technology Symposium. Department of Defence, Canberra ACT 2600 Australia. Retrieved from https://www.hsdl.org/?view&did=455291
Senchenko, O. (2017). Merezhevyi instrumentarii novykh viin [Network tools of new wars]. Visnyk Knyzhkovoi palaty Bulletin of the Book Chamber, 1, 37-41 [In Ukrainian].
Marutian, M., & Zahorulko, A. Orhanizatsiina zbroia u hibrydnii viini [Organizational weapons in hybrid warfare]. Retrieved from https://matrix-info.com/organizatsijna-zbroya-u-gibrydnij-vijni/ [In Ukrainian].
Castells, М. (2009). The Rise of the Network Society. Oxford: Wiley-Blackwell.
Voitovych, R. (2010). Merezheve suspilstvo yak nova forma sotsialnoi orhanizatsii v umovakh hlobalizatsii [Network society as a new form of social organization in the conditions of globalization]. Politychnyi menedzhment Political management, 5, 3-18 [In Ukrainian].
Pocheptsov, H. (2013). Smyslovi viiny v politytsi ta biznesi [Semantic wars in politics and business]. Retrieved from https://ms.detector.media/manipulyatsii/post/4633/2013‑03‑10‑smislovi-viini-v-polititsi-ta-biznesi/ [In Ukrainian].
Kharytonenko, O. Smyslovi viiny v mezhakh hibrydnykh protystoian [Meaning wars within hybrid confrontations]. Retrieved from http://enpuir.npu.edu.ua/bitstream/123456789/22259/1/Kharytonenko_HVIZh_2018_S.%20143–228.pdf. [In Ukrainian].
Trebin, M. P., & Panfilov, O. Yu. (2020). Postmodernizm yak metodolohiia suchasnykh smyslovykh viin [Postmodernism as a Methodology of Modern Semantic Wars]. The Bulletin of Yaroslav Mudryi National Law University. Series: philosophy, philosophy of law, political science, sociology, 1 (44), 53–65 [in Ukrainian].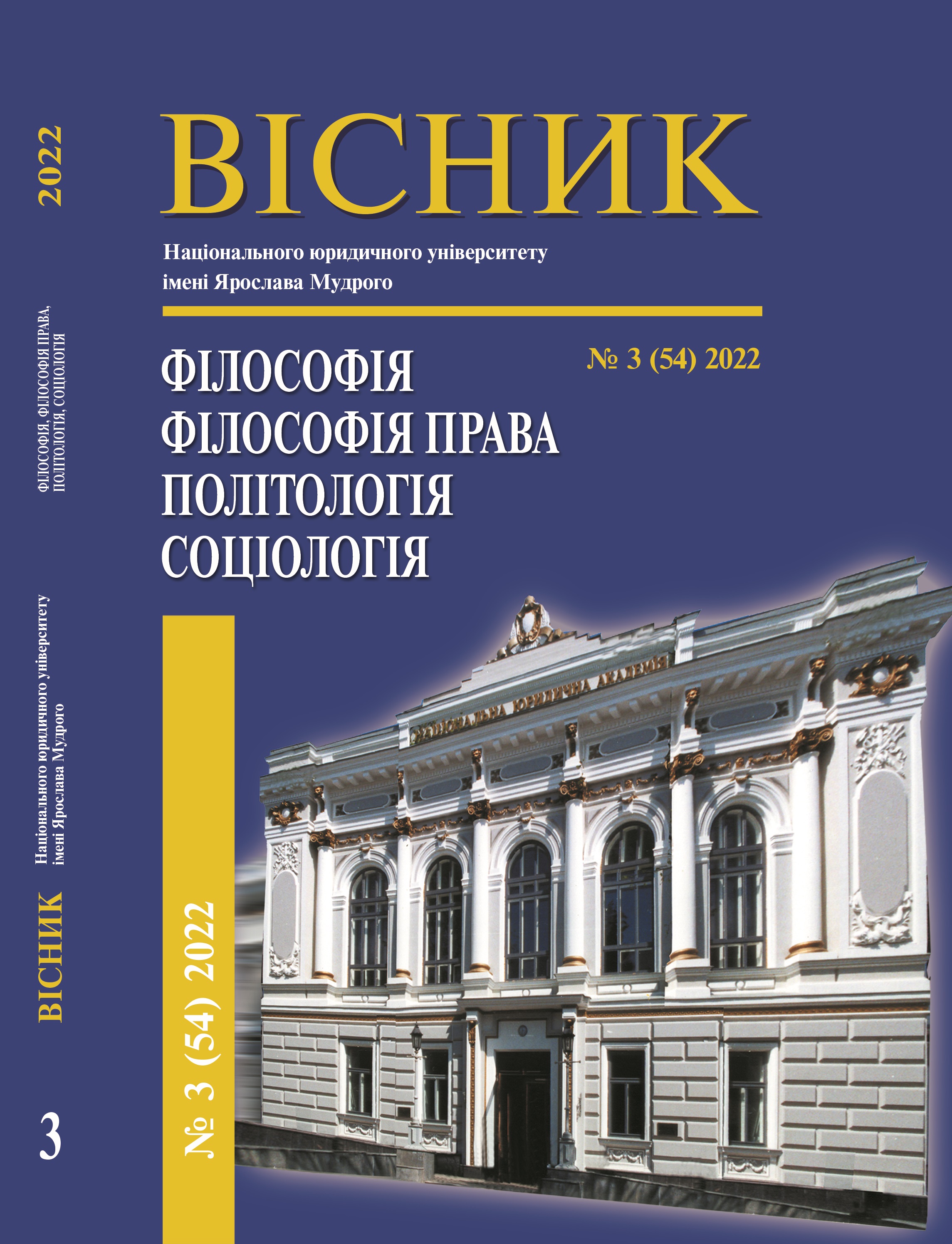 ##submission.downloads##
Як цитувати
Панфілов , О. ., & Савченко , О. . (2022). ОРГАНІЗАЦІЙНІ ВІЙНИ ЯК ІНСТРУМЕНТ ТИСКУ В МІЖНАРОДНИХ ВІДНОСИНАХ. "Вісник НЮУ імені Ярослава Мудрого". Серія: Філософія, філософія права, політологія, соціологія, 3(54). https://doi.org/10.21564/2663-5704.54.265737