ІНФОРМАЦІЙНЕ НАСИЛЬСТВО ЯКСОЦІАЛЬНИЙ ФЕНОМЕН
Ключові слова:
насильство, інформаційне насильство, засоби масової інформації, праймінг, комунікаційний простір, мережева комунікація
Анотація
У статті розкривається сутність інформаційного насильства як соціального явища. Розглянуто складові інформаційного насильства, розкрито ефект праймінгу в медіа, подано результати досліджень впливу демонстрації насилля у засобах масової інформації та масової комунікації на поведінку дітей та молоді. Визначено нові тенденції впливу інформаційного насильства на зміну соціальних практик, зокрема на трансформацію ведення воєн сучасного типу.
Посилання
Vdovychyn, I.Ya., Uhryn, L.Ya., & Shypunov, H.V., et al. (2015). Novitnia politychna leksyka (neolohizmy, okazionalizmy ta inshi novotvory) [The latest political vocabulary (neologisms, occasionalisms and other innovations)] / za zah. red. N.M. Khomy. Lviv : "Novyi Svit – 2000" [in Ukrainian].
Denysenko, V.M., Uhryn, L.Ya., & Khoma, N.M., et al. (2014). Politolohiia: entsyklopedychnyi slovnyk [Political science: an encyclopedic dictionary] / za red. d-ra filos. nauk, prof. V.P. Melnyka. Lviv : LNU imeni Ivana Franka [in Ukrainian].
Herasina, L.M. (2015). Nasylstvo yak sotsialna destruktsiia [Violence as social destruction]. Visnyk Kharkivskoho natsionalnoho universytetu imeni V.N. Karazina The journal of V.N. Karazin Kharkiv National University, 1148, 35-40 [in Ukrainian].
Baranov, A. Ju. (2016). Rol' informacii v realizacii nasilija v kontekste sovremennogo obshhestva [The role of information in the implementation of violence in the context of modern society]. Nauka, tehnika i obrazovanie Science, technology and education, 9 (27), 67-69 [in Russian].
Dzoban, O. P., & Pylypchuk, V. H. (2011). Informatsiine nasylstvo ta bezpeka: svitohliadno-pravovi aspekty [Informational violence and security: ideological and legal aspects]: monohrafiia / Za zah. red. prof. V. H. Pylypchuka. Kharkiv: Maidan [in Ukrainian].
Samchynska, O. A., & Furashev, V. M. (2021). Informatsiine nasylstvo, informatsiina manipuliatsiia ta propahanda: poniattia, oznaky ta spivvidnoshennia [Information violence, information manipulation and propaganda: concepts, signs and relationships]. Informatsiia i pravo Information and law, 1 (36), 55-65 [in Ukrainian].
Herasina, L.M., Panfilov, O.Yu., & Pohribna, V.L., et al. (2020). Sotsiolohiia prava: entsyklopedychnyi slovnyk [Sociology of law: an encyclopedic dictionary] / za red. M.P. Trebina. Kharkiv : Pravo [in Ukrainian].
Vasylevych, O.H. (2007). Informatsiine nasylstvo yak sotsialnyi fenomen [Informational violence as a social phenomenon]. Visnyk Zhytomyrskoho derzhavnoho universytetu imeni IvanaFranka Zhytomyr Ivan Franko State University Journal, 35, 29-33 [in Ukrainian].
Borshchov, N. A. (2010). Informacionnoe nasilie v sovremennom obshchestve [Information violence in modern society]. Vestnik Saratovskogo gosudarstvennogo tekhnicheskogo universiteta Scientific Journal Saratov State Technical University, 2 (45). Retrieved from https://cyberleninka.ru/article/n/informatsionnoe-nasilie-v-sovremennom-obschestve [in Russian].
Panfilov, O. Yu. (Ed.) (2017). Filosofsko-sotsiolohichni aspekty suchasnoho informatsiinoho suspilstva [Philosophical and sociological aspects of the modern information society]: monohrafiia. Kharkiv: FOP Danylko N. S. [in Ukrainian].
Panchenko, O. H., & Antonov, V. H. (2019). Kontseptualizatsiia poniattia "informatsiine nasylstvo" v konteksti natsionalnoi bezpeky [Conceptualization of the concept of 'informational violence' in the context of national security]. Aktualni problemy derzhavnoho upravlinnia Actual problems of public administration, 1 (55), 65-73 [in Ukrainian].
Bodrijjar, Zh. (2000). Prozrachnost' zla [Transparency of Evil] / per. s fr. L. Ljubarskoj i E. Markovskoj. Moskva: Dobrosvet [in Russian].
AAP Council on Communications and Media (2016). Virtual Violence. Pediatrics, 138 (1), e20161298. DOI: 10.1542/peds.2016-1298
Shnurovska, L. (2018). Linhvomentalna sutnist i klasyfikatsiia vydiv praiminha [Linguistic essence and classification of types of priming]. Science and Education a New Dimension. Philology, VI(44), 151, 61-64 [in Ukrainian].
Gentile, D. A., & Gentile, J. R. (2008). Violent video games as exemplary teachers: A conceptual analysis. Journal of Youth and Adolescence, 37 (2), 127-141. DOI: 10.1007/s10964-007-9206-2
Huesmann, L. R. (2007). The impact of electronic media violence: Scientific theory and research. Journal of Adolescent Health, 41 (6 Suppl 1). S6-S13. DOI: 10.1016/j.jadohealth.2007.09.005
Prot, S., Anderson, C.A., Barlett, C.P.,Coyne, S.M., & Saleem, M. (2017). Content effects: Violence in the Media. In Rössler, P., Hoffner, C.A., & Zoonen, van, L. (Eds.). International Encyclopedia of Media Effects. Chichester, West Sussex [England] ; Malden, MA : Wiley Blackwell. DOI: 10.1002/9781118783764.wbieme0121
Bushman, B. J. (2018). Guns automatically prime aggressive thoughts, regardless of whether a "good guy" or "bad guy" holds the gun. Social Psychological and Personality Science, 9 (6), 727-733. DOI: 10.1177/1948550617722202
Benjamin, A.J., & Crosby, M. (2019). A Case of Unintended Cognitive Consequences: Guns Prohibited Images Prime Aggressive Thoughts. Journal of Mental Health and Social Behaviour, 1: 103. DOI: 10.33790/jmhsb1100103
Adorno, T. (2000). Problemy filosofii morali [Problems of moral philosophy] / Per. s nem. M. L. Hor'kova. Moskva: Respublika [in Russian].
Bergman, M.P. Social Media Violence. Social Media Victims Low Senter. Retrieved from https://socialmediavictims.org/social-media-violence/
Selvi, M. (2021). Impact of media violence on society: Cause or outcome? Daily Sabah. October 15. Retrieved from https://www.dailysabah.com/opinion/op-ed/impact-of-media-violence-on-society-cause-or-outcome
Gerbner, G. (1985). Children's Television: A National Disgrace. Pediatric Annals, 14 (12), 822-823, 826-827.
Children, violence and vulnerability 2022. Youth endowment fund. Retrieved from https://youthendowmentfund.org.uk/reports/children-violence-and-vulnerability-2022/?gclid=Cj0KCQiAorKfBhC0ARIsAHDzslsvComEGQVFhXF5B5_q_1om4pjn-AFhouAkeuVq26exlyLtHI_ERBEaAkraEALw_wcB
Krotiuk, V.A. (Ed.) (2021). Viiny informatsiinoi epokhy: mizhdystsyplinarnyi dyskurs [Wars of the Information Age: An Interdisciplinary Discourse]: monohrafiia. Kharkiv: FOP Fedorko M. Yu. [in Ukrainian].
Hardt, М., & Negri, А. (2006). Mnozhestvo: Vojna i demokratija v jepohu imperii [Multitude: War and Democracy in the Age of Empire] / Per. s angl. pod red. V. L. Inozemceva. Moskva: Kul'turnaya revolyuciya [in Russian].
Trebin, M.P., Polishchuk, I.O., & Osypova, N.P., et al. (2014). Mizhnarodna informatsiia [International information]: navch. posib. / za red. M.P. Trebina. Kharkiv: Pravo [in Ukrainian].
Trebin , M. P., & Chernyshova, T. O. (2021). Borotba za svidomist liudei v epokhu postpravdy [The Fight for People's Consciousness in the Post-truth Era]. Visnyk Natsionalnoho yurydychnoho universytetu imeni Yaroslava Mudroho. Seriia: Filosofiia, filosofiia prava, politolohiia, sotsiolohiia The Bulletin of Yaroslav Mudryi National Law University. Series: Philosophy, Philosophy of Law, Political Science, Sociology, 3 (50), 153-171. DOI: 10.21564/2663-5704.50.235224 [in Ukrainian].
Berezovska-Chmil, O. B., Kuchyn, S. P., & Chernyshova, T. O., et al. (2021). Spetsyfika rozvytku suchasnoho sotsialno-humanitarnoho seredovyshcha [The specifics of the development of the modern social and humanitarian environment]: kol. monohr. Kharkiv: SH NTM "Novyi kurs" [in Ukrainian].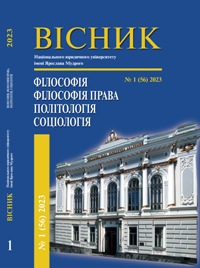 ##submission.downloads##
Як цитувати
Панфілов, О. (2023). ІНФОРМАЦІЙНЕ НАСИЛЬСТВО ЯКСОЦІАЛЬНИЙ ФЕНОМЕН. "Вісник НЮУ імені Ярослава Мудрого". Серія: Філософія, філософія права, політологія, соціологія, 1(56). https://doi.org/10.21564/2663-5704.56.274026