ТРАНСФОРМАЦІЯ ФОРМ ПРОФЕСІЙНОЇ МОБІЛЬНОСТІ ФАХІВЦІВ ПІД ВПЛИВОМ ГЛОБАЛІЗАЦІЇ
Ключові слова:
глобалізація, професійна мобільність, глобальний ринок праці, інтелектуальна міграція, аутсорсинг, краудсорсинг
Анотація
Розкривається зміст поняття «професійна мобільність» фахівців. Доводиться, що глобалізація та використання сучасних інформаційно-комунікаційних технологій суттєво розширило можливості для внутрішньої і зовнішньої професійної мобільності. Розглядаються нові форми професійної мобільності фахівців в глобалізованому світі, аналізуються їх переваги та недоліки.
Посилання
Sorokin, P. A. (1992). Chelovek. Civilizacija. Obshhestvo [Person. Civilization. Society]. Moskva: Politizdat [in Russian].
Ivanchenko, Ye. A. (2005). Formuvannia profesiinoi mobilnosti maibutnikh ekonomistiv u protsesi navchannia u vyshchykh navchalnykh zakladakh [Formation of professional mobility of future economists in the process of studying in higher educational institutions]: candidate's thesis. Odesa [in Ukrainian].
Kozhemiakina, N. I. (2006). Sotsialno-pedahohichni umovy formuvannia profesiinoi mobilnosti maibutnikh menedzheriv-ahrariiv [Social and pedagogical conditions for the formation of professional mobility of future agricultural managers]:candidate's thesis. Izmail [in Ukrainian].
Sushentseva, L., & Sulyma, T. (2016). Profesiina mobilnist yak sotsiolohichna katehoriia [Professional mobility as a sociological category]. Actual questions and problems of development of social sciences: International Scientific-PracticaIu,. June 28-30. Conference Proceedings, Pp. 82-85. Kielce: Holy Cross University. Retrieved from http://elibrary.kdpu.edu.ua/xmlui/handle/0564/532 [in Ukrainian].
Prima, R.M. Profesiina mobilnist fakhivtsia yak naukova problema [Professional mobility of a specialist as a scientific problem]. Retrieved from http://www. sportpedagogy. org. ua/html/joumal/2008-01/08prmssp [in Ukrainian].
Shpektorenko, I. (2016). Pidkhody do profesiinoi mobilnosti derzhavnoho sluzhbovtsia v suchasnykh kontseptsiiakh profesionalizatsii [Approaches to professional mobility of civil servants in modern concepts of professionalization]. Derzhavne upravlinnia ta mistseve samovriaduvannia Government and local self-government, 3, 126-133 [in Ukrainian].
Prohorenko, T. G. (2017). Professional'naja mobil'nost' kak faktor professional'noj uspeshnosti [Professional mobility as a factor of professional success]. Visnyk Natsionalnoho universytetu "Iurydychna akademiia Ukrainy imeni Yaroslava Mudroho". Ser. Sotsiolohiia Bulletin of the National University "Yaroslav Mudryi Law Academy of Ukraine". Ser. Sociology, 4 (35), 167-173 [in Russian].
Giddens, Je. (2004). Uskol'zajushhij mir: kak globalizacija menjaet nashu zhizn' [The elusive world: how globalization is changing our lives] / Per. s angl. Moskva: Ves' mir [in Russian].
Davydiuk, L.P. (2019). Intelektualna mihratsiia trudovykh resursiv v umovakh hlobalizatsii [Intellectual migration of labor resources in the context of globalization]. Efektyvna ekonomika Efficient economy, 11. Retrieved from http://www.economy.nayka.com.ua/?op=1&z=7421 [in Ukrainian].
Novikov, A. M. (2008). Postindustrial'noe obrazovanie: publicisticheskaja polemicheskaja monografija [Post-industrial education: publicistic polemical monograph]. Moskva: Jegves [in Russian].
Sliusarevskyi, M., & Blynova, O. (2015). Mihratsiia yak sotsialno-psykholohichne yavyshche: vydy, funktsii, chynnyky ta zakonomirnosti [Migration as a socio-psychological phenomenon: types, functions, factors and patterns]. Svitohliad – Worldview, 5 (55), 41-54 [in Ukrainian].
Stiglits, Dzh. (2003). Hlobalizatsiia ta yii tiahar [Globalization and its burden] / Per. z anhl. Kyiv: KM Akademiia [in Ukrainian].
Trebin, M.P. (2008). Hlobalizatsiia yak vyznachalnyi vektor rozvytku suchasnoi tsyvilizatsii [Globalization as a defining vector of development of modern civilization]. Problemy derzhavno-pravovoho rozvytku v umovakh yevropeiskoi intehratsii i hlobalizatsii: Materialy mizh nar. nauk. seminaru, m. Kharkiv, 16 trav. Problems of state and legal development in the context of European integration and globalization: Proceedings of the international scientific seminar, Kharkiv, May 16, Pp. 26-29 / Redkol.: Yu.P. Bytiak, I.V. Yakoviuk, H.V. Chapala. Kharkiv: Pravo [in Ukrainian].
Turou, L. (1999). Budushhee kapitalizma. Kak segodnjashnie jekonomicheskie sily formirujut zavtrashnij mir [The future of capitalism. How today's economic forces are shaping tomorrow's world] / Per. s angl. A. I. Fedorova. Novosibirsk: Sibirskij hronograf [in Russian].
Prokhorenko, T.H. (2019). Osoblyvosti profesiinoi sotsializatsii molodi v umovakh hlobalizatsii [Features of professional socialization of youth in the context of globalization]. Visnyk Natsionalnoho yurydychnoho universytetu imeni Yaroslava Mudroho. Ser. Sotsiolohiia Bulletin of Yaroslav Mudryi National Law University. Ser. Sociology, 4 (43), 174-185 [in Ukrainian].
Baranyk, Z. P. (2014). Intelektualna mihratsiia naselennia Ukrainy: statystychnyi aspekt [Intellectual migration of the population of Ukraine: statistical aspect]. Naukovyi visnyk Khersonskoho derzhavnoho universytetu. Ser. Ekonomichni nauky Scientific Bulletin of Kherson State University. Ser. Economic sciences, 6, 223-227 [in Ukrainian].
Berezovska-Chmil, O.B., Kuchyn, S.P., Chernyshova, T.O., et al. (2021). Spetsyfika rozvytku suchasnoho sotsialno-humanitarnoho seredovyshcha [The specifics of the development of the modern social and humanitarian environment]: kol. monohr. Kharkiv: SH NTM "Novyi kurs" [in Ukrainian].
Herasina, L.M., Panfilov, O.Yu., Pohribna, V. L., et al. (2020). Sotsiolohiia prava: entsyklopedychnyi slovnyk [Sociology of law: encyclopedic dictionary] / za red. M. P. Trebina. Kharkiv: Pravo [in Ukrainian].
Stakhurska, O. (2017). Autsorsynh v Ukraini y u sviti: osoblyvosti, tendentsii ta perspektyvy [Outsourcing in Ukraine and in the world: features, trends and prospects]. Yuryst & zakon Lawyer & Law, 38. Retrieved from https://uz.ligazakon.ua/ua/magazine_article/EA010850 [in Ukrainian].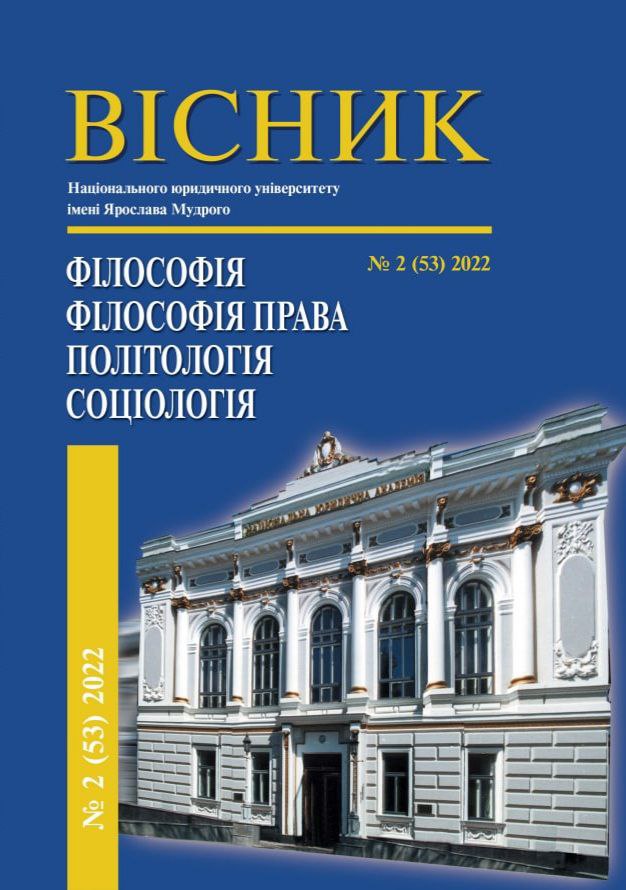 ##submission.downloads##
Як цитувати
Прохоренко, . Т. . (2022). ТРАНСФОРМАЦІЯ ФОРМ ПРОФЕСІЙНОЇ МОБІЛЬНОСТІ ФАХІВЦІВ ПІД ВПЛИВОМ ГЛОБАЛІЗАЦІЇ. "Вісник НЮУ імені Ярослава Мудрого". Серія: Філософія, філософія права, політологія, соціологія, 2(53). https://doi.org/10.21564/2663-5704.53.258168